Mining high-tensile round link chains
---
Products are mainly made of alloy steel. We strictly control the quality of raw materials and strictly monitor each stage and each link of the chain production process to control the quality of each production link. The Company produces a variety and complete grades of products. Chains suitable for the operation field are selected according to customers' demands and the actual situation. The quality of mining chains of Gelin Company has been recognized by all customers!
Mining high-tensile round link chains
Mining Round Link Chain
Manufacture standards
The mining round link chains produced by Gelin can meet the dimension and all the mechanical performance requirements of GB/T 12718; DIN 22252 and other standards
Scope of application
The mining high-strength circular-ring chains produced by Gelin are mainly applied to coal mine scraper conveyors, loaders and coal plough
Friendly reminder
Users should choose the suitable coating and corrosion prevention methods according to the working condition and storage conditions of individual mines;
Any kind of anti-corrosion coating method may reduce the performance of chains;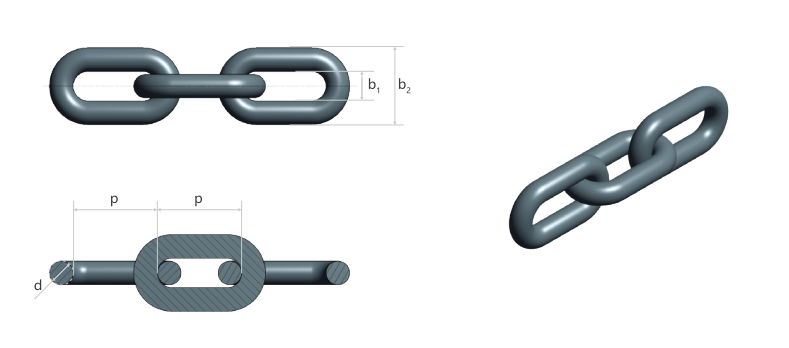 Size
Chain

Standard sizes


dxp

Diameter
d
Pitch
P

Inner width b1

minimum

Outer width b2

maximum value

Weight
[mm]
[mm]
[mm]
[mm]
[mm]
[kg/m]
22X86
22±0.7
86±0.9
26
74
9.5
24X86
24±0.7
86±0.9
28
79
11.6
26X92
26±0.8
92±0.9
30
86
13.7
30X108
30±0.9
108±1.1
34
98
18.0
34X126
34±1.0
126±1.2
38
109
22.7
38X126
38±1.1
126±1.2
42
121
30.1
38X137
38±1.1
137±1.4
42
121
29.0
42X146
42±1.1
146±1.5
46
133
36.0
Note: The surface delivery state of Green products is natural black anti-rust treatment, other requirements from customers need to be negotiated separately;
*Circular chain used in reloader, scraper conveyor, coal plow
Mining Ring Chain
Circular-ring chain with optimized strength
Grade B, C, C+, D
Based on relevant circular-ring chain manufacture standards like GB, DIN and PN, to better serve customers and meet the increasingly complex working conditions in the coal exploration wells, engineering technicians of Gelin have developed grade C+ (>900MPA) and grade D (>1050MPA) circular-ring chains. After reinforcement design, chains have higher strength and wear-resistance performance. Such high-strength chains are made of alloy materials with non-traditional manufacture process. The impact toughness will not be reduced, while achieving higher strength. Different grades of circular-ring chains are applicable to different working conditions. Especially the grade D chains have high hardness and higher tensile strength. Since the hardness is improved, chains are more sensitive to stress corrosion. They are likely to be affected by stress corrosion pits and other environments during service, so it is not suggested that they are applied in strongly corrosive environments.
Table of Strength Characteristics of Each Grade of Chain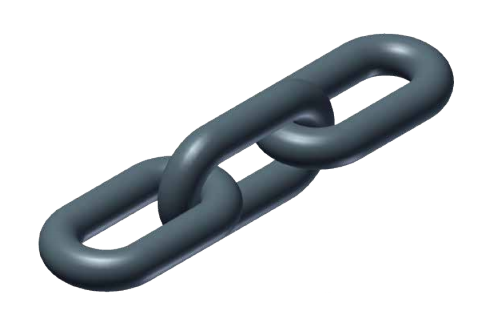 Depending on the mine environment and storage conditions, we offer a variety of surface treatments:
Mechanical stress relief enhanced protection
Rust-resistant protection
Hot dip galvanized protection
Anti-rust and anti-corrosion protection by surface oxidation
Note: The surface delivery status of Green products is: surface oxidation and rust prevention, corrosion resistance protection---it is a natural black rust prevention treatment method.
Mechanical behavior
Chain

Standard sizes

dxp

chain grade
force

Under test force

Maximum elongation

Under breaking force

Minimum elongation

Minimum bending deflection f
Minimum fatigue strength
Test force
Minimum breaking force
[mm]
[kN]
[kN]
[%]
[%]
[mm]
[Cycles]
22X86
B
380
490
1.4
12
22
50 000
C
490
610
1.6
12
22
70 000
D
610
760
1.9
16
22
90 000
24X86
B
460
570
1.4
12
24
50 000
C
580
720
1.6
12
24
70 000
D
720
900
1.9
16
24
90 000
26X92
B
540
670
1.4
12
26
50 000
C
640
850
1.6
12
26
70 000
D
790
1060
1.9
16
26
90 000
30X108
C
900
1130
1.6
12
30
70 000
D
1130
1410
1.9
16
30
90 000
34X126
C
1160
1450
1.6
12
34
70 000
D
1450
1810
1.9
16
34
90 000
38X126
C
1450
1810
1.6
12
38
70 000
38X137
D
1810
2 270
1.9
16
38
90 000
42X137
C
1770
2 220
1.6
12
42
70 000
42X146
D
2 220
2 770
1.9
16
42
90 000
*Draft chains for scraper conveyors, transfer machines, and coal plows
Parameter
The fatigue resistance T (number of cycles) and impact test KV[J] can meet the GB/T12718, DIN22252 and PN-G-46701 standards as well as technical conditions of Gelin.
To achieve good performance of chains in practical work, the hardness distribution at each part of chains is different.
The hardness of the arc part for both the circular-ring chain or compact chain where it meshes with the chain wheel and chain rings connect should be high enough to resist wear, and the toughness of the straight side of chain rings should be improved, so the hardness of the straight side should be a little lower than that of the arc part.
Sincerely look forward to working with you!
*The relevant information you submit is only for business communication with our company; our company solemnly promises not to provide any personal privacy information about you to third parties; please do not submit it if you are concerned.